Phil's Loco Page
Railway Photography Page

Welcome to my new photo page, here you can find high quality digital printed photos available for purshase, each photo is printed at 300 dpi on high quality Epson paper using the Epson 2100 printer. All photos (except those with grey background) are available in A3 (420 x 297 mm) and all are available on A4 paper (297 mm and 210 mm). The A3 photos can be supplied in luxury lightweight frames as shown below.
Latest updates
Updated 2 July with Alaska photos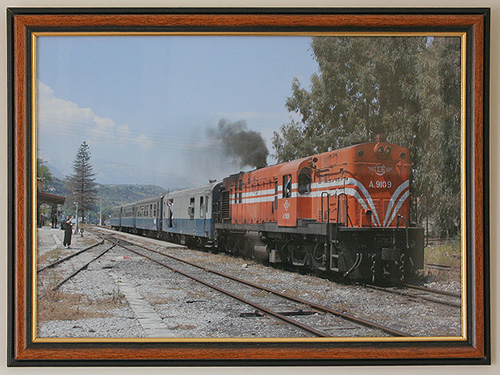 All photos are displayed on my "FOTOPIC" site. I can supply prints of any photos on there also. Please contact me for further information.
The currently available photos are here, (new uploads are marked in blue)
Bulgaria
| | | |
| --- | --- | --- |
| | | |
| 06-033 at Shiroko Pole | 07-035 at Thessaloniki | 07-067 near Aminteo |
Croatia

2062-113 at Perkovic
Denmark

MAV M61-017 at Odense
China
England
| | | | | | |
| --- | --- | --- | --- | --- | --- |
| | | | | | |
| 31602 at Newark | 37411 at Chesterfield | 43076 at Wellingborough | HST at Edale | HST near Hope | 55019 at Newark |
Estonia
| | | | |
| --- | --- | --- | --- |
| | | | |
| 2TE116-699 at Lehtse | 2TE116-1548 at Lehtse | 1501 at Lehtse | 1515 at Lehtse |
Germany
| | |
| --- | --- |
| | |
| 120-157 at Prenzlau | 250-003 at Schwindegg |
Greece
| | | | | | |
| --- | --- | --- | --- | --- | --- |
| | | | | | |
| A-503 at Axios | A506+A-504 Kalindia | A-509+A-205 Tithorea | 220-030 at Thessaloniki | A-9103 at Eghio | A-9109 at Eghio |
Lithuania
| | |
| --- | --- |
| | |
| M62-1230 near Vilnius | TEP70-0332 Radviliškis |
Latvia
| | |
| --- | --- |
| | |
| TEP60-0284 at Riga | 2M62-1194 at Krustpils |
Portugal

1938 Lisboa Oriente
Russia
| | | |
| --- | --- | --- |
| | | |
| TEP10-0314 at Bezlesnaya | 2TE10U-0173 Petrosavodsk | Csh200-009 St Petersburg |
Spain
| | | | |
| --- | --- | --- | --- |
| | | | |
| 318-012 Vigo Guixar | 321-030 at Portela | 333-204 Socuéllamos | 333.4 at Ourense |
Slovenia

664-112 Murska Sobota
Switzerland
| | | | |
| --- | --- | --- | --- |
| | | | |
| 11230 Steinen | 460-079 Steinen | 185-135 at Steinen | 185-532+517 at Steinen |
USA (Amtrak & Alaska)
| | | | | |
| --- | --- | --- | --- | --- |
| | | | | |
| 204+93+500 Naperville | Triple DL535's pass Denver | Quad GE's pass Denver | Triple DL535's near Glacier | 73 passes Glacier |
| | | | | |
| Triple 90s at Fraser loop | Triple DL535 at White Pass | Triple GE's at White Pass | GE+Triple DL535's White Pass | Triple GE'sat White Pass |
| | | | | |
| SD70 at MP131 Anchorage | Denali Star MP131 Anchorage | 3013 passes Potter | Ex F40 at MP131 | 4322 Seward on Coastal Classic |
| | | | | |
| 4322 on Coastal Classic | 2807 at Portage | 3007 passes Birchwood | Triple SD70 Moos Pass | Triple SD70 Moos Pass |
View over 6000 photos at my Fotopic site
Return to Index